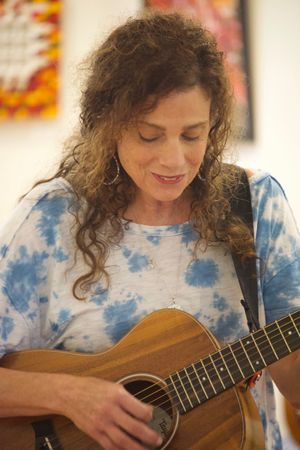 "Bello's raw, flowing, honest vocals in songs about various familiar topics...demonstrate her capabilities as both a singer-songwriter and musician. Her unexpected choices are particularly welcome and rise above the others."
- Steemit
Josie Bello has been musical from an early age. She would often walk around the house, humming or singing some tune she had formed in her head, so frequently that her mother would ask her to "please pipe down". 
At 7 years old she expressed a desire to learn guitar, however, her Italian-American family directed her to take accordion lessons, where she learned enough musical structure to maintain her interest in making music. 
Growing up in Queens, NY, it is no surprise that her musical hero is Bruce Springsteen - an artist she wishes she could channel into her own songwriting at times. But then again, doesn't every songwriter want… need... to channel "The Boss." 
Josie met and married Frank Bello, who spent time playing coffeehouses in Brooklyn during his college years. More recently, Josie accompanied him on stage - playing keys and providing backing vocals. This renewed musical energy spilled over to Josie and she took up her original instrument of interest, guitar. 
Josie's writing process is spontaneous, at times a phrase or chord progression that gets written down only to sit for a time, until the moment is right. Other times it comes in a rush, allowing her to grab the inspiration of the moment and run with it. 
In the past few years, she's recorded and released two albums with songwriter and producer, Mike Nugent. 
Beyond "The Boss", her musical inspiration runs the gamut, including Emmylou Harris and Mary Chapin Carpenter. She considers each of her idols both inspiration and instruction - drawing both pleasure and lesson from the listening. 
She has performed live in the NY area, including a show at Hope Lodge, a hotel in mid-town Manhattan run by the American Cancer Society. Performing for patients and their families was both humbling and inspiring. It dovetails nicely with her belief that music is a unifying and healing force. 
It is her desire that her music can provide you with a simple respite from the troubles of the day or, if nothing else, the simple joy that music holds.